Great farm broiler chicken cages
The great farm broiler chicken cages uses a multi-layer structure, and the surface is treated by hot-dip galvanizing, which has a long service life and saves space, and is used in commercial chicken farms.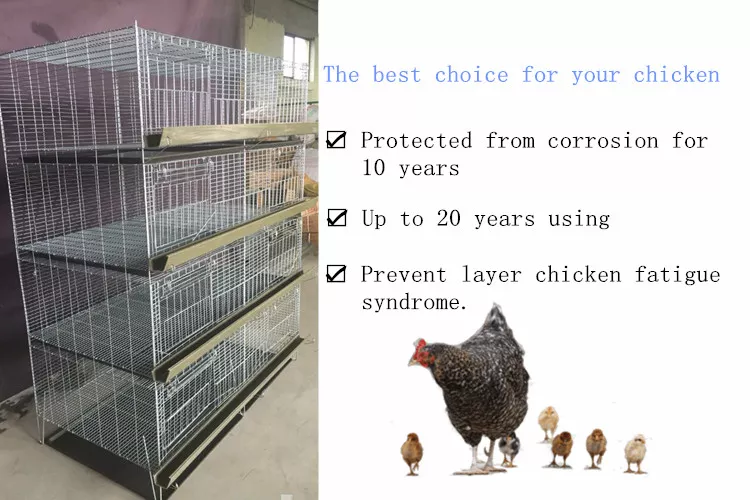 A type chicken cage has the feature of simple structure, easy operation and maintenance, high option of the automatic equipment, lower input costs and reap fast, customer could choose the chicken cage only, cage with semi or high-automatic equipment according to your different requirement.
H type chicken cage has the feature of high-automation, high-density, effectively save the land and labor cost, the separation of the chicken shed and people living zone avoids the disease spread, fully automatic manure removing system effectively decrease the environmental pollution, adding the intelligent environmental controling system, which is the best choice of the intensive & large scale poultry farm.
Type: A-Type and H-Type
Size: A-Type: 1950mm500mm400mm
H-Type: 2000mm1800mm450mm, 2412mm1600mm500mm.
Tiers: A-Type ( 3-4 Tiers ); H-Type ( 3-4 Tiers ).
Raw material: International Q235 bridge-steel.
Cage frame: U-shaped steel bar.
Anti-corrosion treatment process: Electrostatic spraying, Aluminum-zinc alloy, Hot-dip galvanized.

Fully automatic electrostatic spraying equipment for raising broiler chicken
Fully automatic electrostatic spraying equipment, which can resist corrosion and has a long lifespan about more than 15-20 years. Adopting the high quality PP bottom net, firm and durable, can effectively reduce the occurrence of the chest diseases.
Adopting the automatic system can reduce labor cost and a variety of stress bringing by the staff moving to improve the survival rate. It can reach the final ideal benefits.
The LED lights lines are added at the top of each cage body so that the line lights and lights lines can be used in conjunction to make the light evenly distributed. Then the light chromatography can promote the chicken's growth and improve the growth efficiency.
Equipment list of the Great farm broiler chicken cages feeding system:
Feeding trough
Nipple Drinking
Mat
Dung Board
PVC pipe
Support frame leg
Water tank
The valve and tee joint
Water tank bracket
Wired hose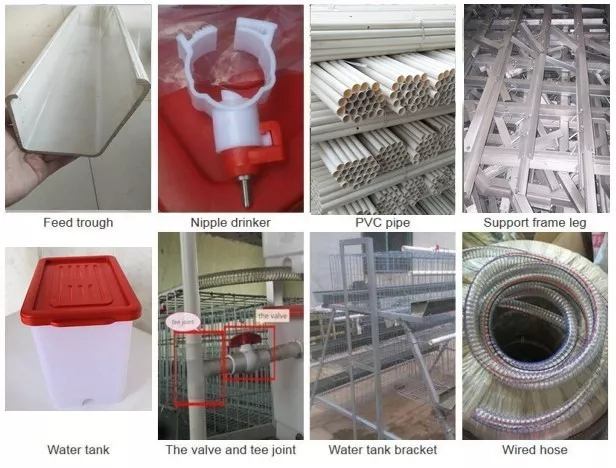 Broiler Chicken Cage System Advantages:
Chicken cage could feed the broiler from one day old, because the life span of the broiler is 42 days, don't need to have the baby chick cage when they are small, save cost.
Comfortable cage for Broiler chickens – The unit area per chicken has reached new european standard.
Fully use of space & save investment – Cost on land is cut greatly.
Low disease and death rate – Good design and environment control system lead to almost zero death rate.
Highly corrosion resistant – Electrostatic spraying process assures cage corrosion resistant.
Automatic water drinking system – Good quality nipple drinkers can control output and avoid splashing.
Easy to install and operate.
For more farming techniques, please bookmark the website: https://www.cnchickencage.com/