Plastic Slat Floor For Poultry Farm
Animal husbandry equipment chicken farm pvc poultry slat flooring for sale
Free shipping on orders over $50!
Satisfaction Guaranteed
No Hassle Refunds
Secure Payments
Description
Plastic flooring allows you to drop the temperature level of your facilities by approximately 5 degrees and still remain a warm and comfortable floor, which means you can save energy.
The plastic flooring is made of superior quality polypropylene(PP) material which provides a warmth factor that does not rob previous body heat from the chicken to turn the feed they eat into pounds and not into fuel to heat their bodies.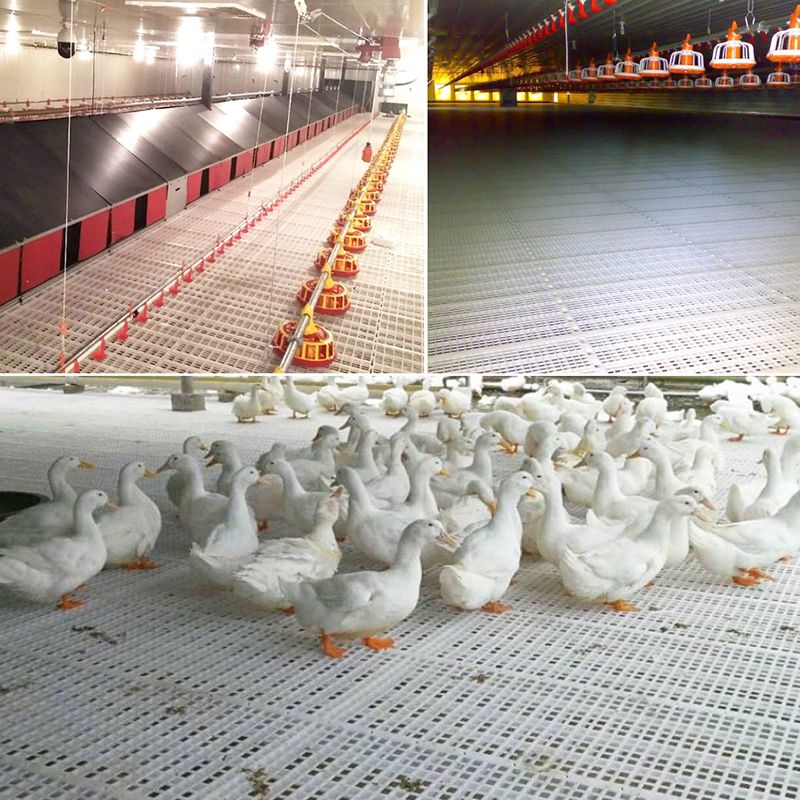 Why do we choose plastic slat floor system for poultry?
1. More Clean and Dry farm.
2. Minimize risk of common infections.
3. Fast & Easy Cleaning and disinfecting.
4. Minimize harmful gas and dust, decreases the accumulation of harmful gas.
5. Air is evenly distributed to provide a comfortable ambiance ventilation below the slatted floor removes harmful gas from the house.
6. Energy saving.
7. No bedding cost, the slatted floor is installed once and for all permanently,it suitable for all stages of birds' growth, saving per house is a minimum of 8000 used on wood shaving per year , lower labor cost, Cooler environment reduces energy cost by 10 to 15%.
Brief introduction the chicken farm pvc poultry slat flooring:
We include solid type and slat type, as well as different sizes and shape for choosing, also with the different kind of states. It is the floor system for various kinds of containers, injected from PP, it is smooth and flat, with high tensile strength, good rigidity, anti-aging and anti-corrosion.
The advantaged design made it can interlock by rabbet, which realizes Its convenient to install and easy to clean. Many styles of interlocking plastic floors for nursery pigs according to customers' designs and requirements.
We also have the fittings, base, plastic plain netting and other related products. So you can purchase all the products that you need from our company one-time, saving your time and energy.
Main parameter of the chicken farm pvc poultry slat flooring:
| | | | | | |
| --- | --- | --- | --- | --- | --- |
| Name | Size(mm) | Hole size(mm) | Weight | Material | Color |
| Chicken slat floor | 1200*500*400 | 8*15*20 | 2.1KG | PP | white |
| Chicken slat floor | 1200*500*400 | 20*24 | 2.1KG | PP | white |